iGB Affiliate Lisbon, here we come!
28 August 2019
After a successful first edition of the Lisbon Affiliate Conference, the second edition -now rebranded under the name iGB Affiliate Lisbon– is right around the corner.
To be carried out once again at the Feira Internacional de Lisboa, as well described by the iGB network: this autumn show is a gateway into Europe's smaller and harder to reach affiliate markets as well as  some of the most lucrative local operators. That being said, the Alea Affiliates team will dare not to miss it.
With two full days of exhibition on the 16th and 17th of October, that's not all that's on the program. There will be networking events like the now traditional welcome drinks starting on the 15th, plus several other gatherings extending all the way to Saturday 19th.
If you've already visited the Portuguese capital, then there's no need to remind you what a vibrant and beautiful city it is; it just goes without saying that it's an ideal backdrop for an affiliate conference, or any other event for that matter. If on the other hand, this will be a first for you, then just allow us to warn you: you're in for somethin' special. Whether it's the fabulous soundtrack of people speaking in yummy Portuguese, its multicultural vibe, its colorful everythingness, the striking level of detail in every corner, or the ridiculously rich gastronomical proposal that overflows the city; just be warned that one visit will only leave you craving to go back.
The list of things that make Lisbon a go-back-as-many-times-as-you-can-city is quite extensive, but this is neither the place nor the time. So we'd like to propose something better instead: let's talk about it in person! Are you attending iGB Affiliate Lisbon? We'd love the answer to be yes. If so, reach out to us, let us know, let's book a meeting. Since we won't have a stand during the conference, we'll have plenty of time to talk about business with you…and about Lisbon too, remember.
To give us a heads up about you attending iGB Affiliate Lisbon, get in touch through your affiliate manager, or our contact form.
Until next time
Até a próxima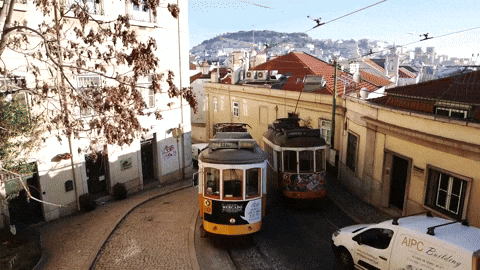 Full list of events:
16TH OCTOBER: 
Pre-Registration and Welcome Drinks – 13:00 – 21:00, Venue TBC

17TH OCTOBER:
Exhibition & Conference – 10:00 – 18:00
Evening networking party – 21:00 – 01:00

18TH OCTOBER:
Exhibition & Conference – 10:00 – 18:00
Closing night party – 21:00 – 01:00

19TH OCTOBER:
Survivor Session – 12:00 – 15:00